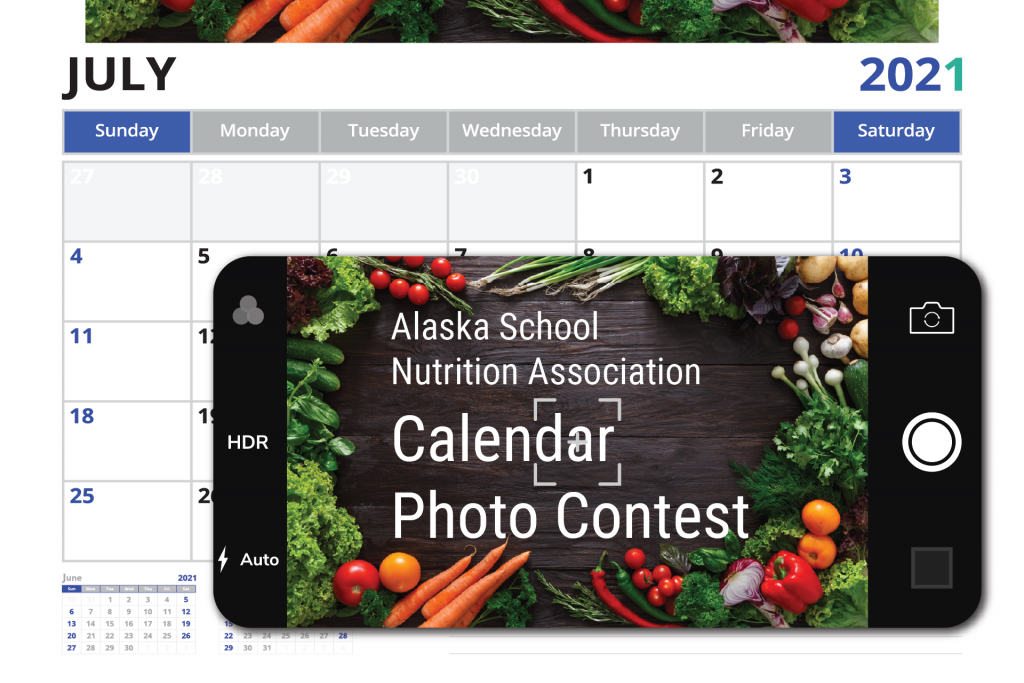 The Alaska School Nutrition Association (AKSNA) is pleased to announce the 2020 Calendar Photo Contest. The contest is open to all school nutrition professionals in the State of Alaska. Winning photos will be featured in the 2021 – 2022 AKSNA Wall Calendar which will be presented at the 53rd Annual AKSNA Conference, 26 – 28 January 2021.
Theme
We invite you to submit photos in one of the following themes:
School Nutrition
Food (production, agriculture, service, or presentation)
Alaskan
Special Themes
October: Farm to School Month
May: School Lunch Hero Day
Contest Deadline and Rules
Submission and Deadline
Submissions must be received no later than 4 December 2020 at 5:00 p.m. (AKST).
Each submission must include one or more photos, a short 1 – 3 sentence description of each photo, and a copy any image release forms (if applicable), and the entrant's personal information.
Email photos and entry form to photocontest@aksna.org.
Prize
Up to thirteen (13) winners will be selected and will receive a free 2021 – 2022 AKSNA Wall Calendar. We will mail the calendar to the address provided on the entry form via US First Class Mail or Priority Mail, whichever service we deem most appropriate. The winning photos will be presented at the 53rd Annual AKSNA Conference, 26 – 28 January 2021.
Purpose
The purpose of this contest is to collect photographs for use in the AKSNA 2021 – 2022 Calendar. The calendar will be offered for sale following the 53rd Annual AKSNA conference with proceeds supporting AKSNA. AKSNA funds are used to host an annual conference, advocate for school nutrition in Alaska and the U.S., and provide training and professional development resources to Alaska's school nutrition professionals.
Photo Size and Quality
Submit high resolution photos only in JPEG, PNG, BMP, or PDF format. Photos will be printed on11 × 8 ½ inch paper; to ensure maximum quality, do not compress, resize, or convert photos from their original file format or size. Photos that may not print well due to image quality will be disqualified.
Human Subjects
If a photo contains a human subject, please include a copy of the Photo/Image Release form (or similar document) which provides consent to use the subject's image for marketing and promotional material, both printed and online. If the subject is under 18 years old, a parent or guardian must sign the release. If multiple subjects appear in the same photo, include a list of the subjects and where they appear in the photo (for example, "From left-to right: Ima Eaton, Ed Ebol, and Teri Aukey").
If no release is submitted, we may crop or edit the photo to de-identify the subject. If we are unable to do so, the photo will be disqualified.
When a Release is Not Required
While we prefer a release form for all subjects in a photo, it is not required for adult subjects appearing in a public space or when the photographed person (adult or minor) is not identifiable. For example, an image of food service in a park would be acceptable if the primary focus of the photo is not the person or people who incidentally appear in the photo or the people appearing in the photo are so far away that it would be impossible to identify them.
Multiple Entries
We will accept multiple entries from a single participant. A single participant photos may appear more than once in the calendar and we may create a collage and present multiple entries from the same individual as a single entry.
No more than one (1) prize will be sent to a single participant, even if multiple entries are selected for the calendar.
Copyright
Participant must be the legal copyright holder of the image(s) submitted. Participants grant AKSNA the right to print and reuse the photo in digital and printed media in its original or an edited form. Participant understands and consents that AKSNA may use the image, original or altered, to generate revenue directly or indirectly. AKSNA may transmit the image to a third-party for the purpose of producing media on AKSNA's behalf. AKSNA will not transfer its rights to a third party without the participant's express written consent.
Eligibility
Participant must be an actively employed school nutrition professional residing in the State of Alaska or be a current member in good standing of the Alaska School Nutrition Association.
AKSNA Member entries will be considered first. Entries from eligible non-members will be considered second, and entries from AKSNA Board Members will be considered last.